This festivity event was held in Hargeisa to celebrate the completions of three 𝑷𝒓𝒐𝒇𝒆𝒔𝒔𝒊𝒐𝒏𝒂𝒍 𝑫𝒆𝒗𝒆𝒍𝒐𝒑𝒎𝒆𝒏𝒕 𝑪𝒐𝒖𝒓𝒔𝒆𝒔; namely 𝐋𝐞𝐚𝐝𝐞𝐫𝐬𝐡𝐢𝐩 𝐚𝐧𝐝 𝐌𝐚𝐧𝐚𝐠𝐞𝐦𝐞𝐧𝐭 𝐢𝐧 𝐇𝐞𝐚𝐥𝐭𝐡, 𝐈𝐧𝐭𝐫𝐨𝐝𝐮𝐜𝐭𝐢𝐨𝐧 𝐭𝐨 𝐄𝐩𝐢𝐝𝐞𝐦𝐢𝐨𝐥𝐨𝐠𝐲 𝐚𝐧𝐝 𝐏𝐫𝐨𝐣𝐞𝐜𝐭 𝐌𝐚𝐧𝐚𝐠𝐞𝐦𝐞𝐧𝐭 𝐢𝐧 𝐇𝐞𝐚𝐥𝐭𝐡 from the global health courses series run by the 𝐔𝐧𝐢𝐯𝐞𝐫𝐬𝐢𝐭𝐲 𝐨𝐟 𝐖𝐚𝐬𝐡𝐢𝐧𝐠𝐭𝐨𝐧'𝐬 𝐃𝐞𝐩𝐚𝐫𝐭𝐦𝐞𝐧𝐭 𝐨𝐟 𝐆𝐥𝐨𝐛𝐚𝐥 𝐇𝐞𝐚𝐥𝐭𝐡 𝐄-𝐥𝐞𝐚𝐫𝐧𝐢𝐧𝐠 based in Seattle, Washington (USA) through distance learning.
According to 𝑺𝒕𝒆𝒑𝒉𝒆𝒏 𝑪𝒐𝒗𝒆𝒚'𝒔 𝒃𝒐𝒐𝒌 𝒂𝒃𝒐𝒖𝒕 𝒕𝒉𝒆 7 𝑯𝒂𝒃𝒊𝒕𝒔 𝒐𝒇 𝑯𝒊𝒈𝒉𝒍𝒚 𝑬𝒇𝒇𝒆𝒄𝒕𝒊𝒗𝒆 𝑷𝒆𝒐𝒑𝒍𝒆, "sharpening the Saw keeps you fresh so you can continue to practice while also investing yourself with the available educational resources around you. You increase your capacity to produce and wisely handle the challenges around you. Without this renewal, the body becomes weak, the mind mechanical, the emotions raw, the spirit insensitive, and the person selfish".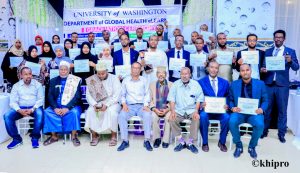 Special recognition and appreciation goes to those who organized & made this unique, stunning occasion possible, Hᴀᴍsᴇ Dᴀʜɪʀ Aʙᴅᴜʟʟᴀʜɪ, ᴇᴠᴇɴᴛ ᴍᴀɴᴀɢᴇʀ, Fᴏᴡᴢɪᴀ Mᴏʜᴀᴍᴇᴅ Hᴜssᴇɪɴ (Gᴀɴᴅɪ), ᴀɴᴅ Mᴏʜᴀᴍᴇᴅ Mᴜsᴇ Kᴀssᴇᴍ. Similarly, I would like to give tribute our founding pillars and most senior healthcare executives who not only took these courses with us but also kept us inspired by their taught and wisdoms, 𝐷𝑟. 𝑀𝑜ℎ𝑎𝑚𝑒𝑑 𝐴ℎ𝑚𝑒𝑑 𝐴𝑏𝑑𝑖 (𝐶𝑎𝑟𝑎𝑏𝑎𝑦𝑡𝑜) of Somaliland Parliament and 𝐴ℎ𝑚𝑒𝑑 𝑀𝑜ℎ𝑎𝑚𝑒𝑑 𝐽𝑎𝑚𝑎 from UNICEF and other highly profiled participants, particularly, 𝑀𝑟. 𝐴𝑏𝑑𝑒𝑘𝑎𝑟𝑖𝑚 𝑌𝑢𝑠𝑢𝑓 𝑀𝑢𝑠𝑒, Director of Kaah Community Hospital for his continuous financial support.
Lastly, our respectful appreciation must go to the honorable guests who graced the event, delivered their encouragement speeches, & awarded our participants for their certifications, their advices and kind support will remind in our minds for years, 𝐇.𝐄. 𝐌𝐚𝐡𝐝𝐢 𝐎𝐬𝐦𝐚𝐧 𝐁𝐮𝐮𝐫𝐢, Deputy Minister of Health Development and 𝐇. 𝐄. 𝐏𝐫𝐨𝐟. 𝐀𝐛𝐝𝐮𝐥𝐤𝐚𝐝𝐢𝐫 𝐎𝐦𝐚𝐫 𝐉𝐚𝐦𝐚, the Deputy Minister of Planning & Development and 𝐌𝐫. 𝐌𝐮𝐬𝐭𝐚𝐟𝐞 𝐌𝐨𝐡𝐚𝐦𝐞𝐝 𝐇𝐚𝐝𝐝𝐢 representing the 𝐌𝐢𝐧𝐢𝐬𝐭𝐫𝐲 𝐨𝐟 𝐄𝐝𝐮𝐜𝐚𝐭𝐢𝐨𝐧 & 𝐇𝐢𝐠𝐡𝐞𝐫 𝐒𝐭𝐮𝐝𝐢𝐞𝐬.
More photos from the event, you can watch from HERE
𝘛𝘩𝘪𝘴 𝘱𝘰𝘴𝘵 𝘸𝘢𝘴 𝘥𝘦𝘥𝘪𝘤𝘢𝘵𝘦𝘥 𝘵𝘰 𝘵𝘩𝘰𝘴𝘦 𝘢𝘳𝘦 𝘤𝘶𝘳𝘳𝘦𝘯𝘵𝘭𝘺 𝘱𝘶𝘳𝘴𝘶𝘪𝘯𝘨 𝘤𝘰𝘶𝘳𝘴𝘦𝘴 𝘵𝘰 𝘬𝘦𝘦𝘱 𝘵𝘩𝘦𝘮 𝘮𝘰𝘷𝘦 𝘢𝘯𝘥 𝘤𝘰𝘯𝘵𝘪𝘯𝘶𝘦 𝘵𝘩𝘦𝘪𝘳 𝘦𝘧𝘧𝘰𝘳𝘵𝘴 𝘵𝘰 𝘳𝘦𝘢𝘭𝘪𝘻𝘦 𝘵𝘩𝘦𝘪𝘳 𝘥𝘳𝘦𝘢𝘮𝘴, 𝘢𝘯𝘥 𝘢𝘭𝘴𝘰 𝘵𝘩𝘰𝘴𝘦 𝘸𝘩𝘰 𝘢𝘳𝘦 𝘱𝘭𝘢𝘯𝘯𝘪𝘯𝘨 𝘵𝘰 𝘫𝘰𝘪𝘯 𝘰𝘶𝘳 𝘤𝘶𝘳𝘳𝘦𝘯𝘵𝘭𝘺 𝘰𝘱𝘦𝘯 𝘤𝘰𝘶𝘳𝘴𝘦𝘴 𝘦𝘯𝘢𝘣𝘭𝘪𝘯𝘨 𝘵𝘩𝘦𝘮 𝘵𝘰 𝘫𝘰𝘪𝘯 𝘶𝘴!…
𝘛𝘩𝘢𝘯𝘬 𝘺𝘰𝘶